This Malaysian favourite is simple to put together and is perfect as a main dish or finger food!
Cuisine : Asian Course : Main  Skill Level : Novice
Prep : 20 mins Cook : 40 mins Ready in : 1 hour  Serves : 4 servings
---
INGREDIENTS             
1 Large Chicken, cut into bite sized pieces
2 tbsp Cooking Oil
2 tbsp Taucheo
1 tbsp McCormick Montreal Steak Seasonings
1 inch McCormick Stick Cinnamon
1 tbsp Coriander Powder
2 tbsp Dark Soy Sauce
1 cup Thick Chicken Broth
1 1/4 cup Hot Water
1 Star Anise
2 McCormick Bay Leaves
2 tbsp Rock Sugar Granules
8 Dried Shitake Mushrooms
200g Bamboo Shoot, cut into wedges
18 Shallots, peeled and minced
10 pips Garlic, peeled and finely minced
1 stalk Coriander Roots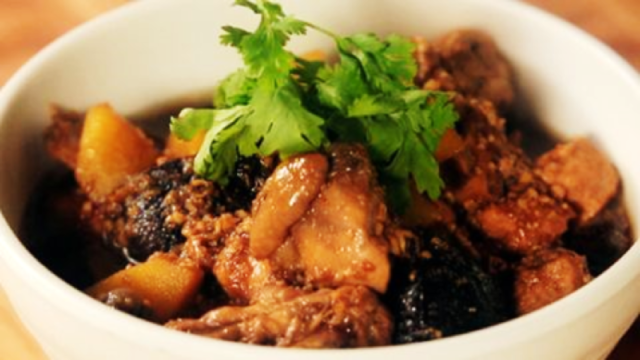 DIRECTIONS:
Soak dried shitake mushrooms in a cup of boiling hot water to reconstitute, slice into thick strips; reserve liquid for cooking. Season chicken pieces with a tablespoon of Montreal steak seasonings and a tablespoon each of grated garlic and shallot.
Blanch bamboo shoot wedges briefly in hot water drain.
Heat oil in a wok over medium heat, and fry shallots for 3 minutes, stirring constantly, then adds finely minced garlic and shallot, stir-fry for 2 minutes. Add mashed taucheo and coriander powder, stir-fry for another minute over medium low heat until aromatic.
Add seasoned chicken pieces, mushrooms, bamboo shoot and dark soy sauce stir-fry on high for about 5 minutes. Add a star anise, cinnamon stick, hot water and chicken broth. Stir mix well to incorporate and season to taste with rock sugar and bring to a boil add in the coriander roots and the bamboo shoot wedges, lower heat simmer for 30 minutes or until gravy is thicken.
Serve with hot turmeric basmati chicken rice.