Fresh, juicy prawns deep fried with a delicious coating of eggs, mixed with curry leaves and a touch of chili padi before tossing with delicious cereal! This hawker favourite is a must-have when ordering Zi Char dishes in Singapore. It's easier to prepare than you think! #QuickBites
Cuisine : Asian Course : Appetizer  Skill Level : Novice
Prep : 30 mins Cook : 5 mins Ready in : 35 mins  Serves : 4 servings
---
INGREDIENTS             
12-15 medium-sized Prawns
Cooking Oil for deep frying
3 small Chili Padis
4 sprigs of Curry Leaves
1 Egg
1 tbsp Self-raising Flour
1 tbsp Corn Flour
70g Nestum Cereal
1 tbsp Milk Powder
1 tbsp Sugar
1 tsp Chicken Stock Powder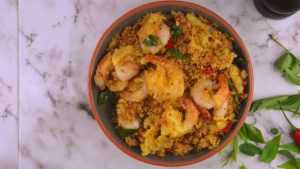 DIRECTIONS:
For Prawn Batter:
Combine egg, self-raising flour, corn flour and whisk till combined evenly.
For Cereal Mixture:
Combine Nestum cereal, milk powder, sugar, chicken stock powder and whisk till combined evenly.
How to cook:
Heat up cooking oil in a saucepot. Coat the prawns in prawn batter and deep fry till slightly golden brown. Remove from pot and set aside.
Melt butter in a wok or frying pan. Add sliced chili padis and curry leaves, stir fry till fragrant.
Add in cooked prawns and stir evenly till well coated.
Add cereal mixture and stir evenly for 3 minutes, till cereal is golden brown.
Serve hot!