Learn to make Siew Mai, a Dim Sum classic filled with pork and shrimp is incredibly juicy and flavourful with Chef Trish Yee's recipe!
Cuisine : Asian Course : Appetizer Skill Level : Novice
Prep : 40 mins Cook : 12 mins Ready in : 52 mins Serves : 4pcs

---
INGREDIENTS:
4 pcs of Wonton Wrappers
100 g Pork Collar or Chicken Thigh, Minced
3 pcs Fresh Shrimp or Prawn, Shelled
Few Sprinkles of Spring Onion
1 tsp Dried Shitake Mushroom, Chopped
1 tsp Water Chestnuts, chopped
1 tsp Hua Tiao Wine
1/2 tsp Sugar
1 tsp Corn Flour
1 tsp Garlic Oil
1/2 tsp Sesame Oil
1/2 tsp Chicken Seasoning Powder
Dash of Pepper
Scallop Slices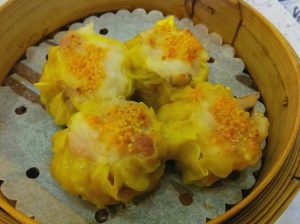 DIRECTIONS:
Shell the prawns and devein prawns and place it in a bowl and marinate with ½ tsp of sugar. Mix well and allow it to marinate for a few minutes.
In the meantime, soak the mushrooms in hot water until softened, then rinse. Remove stems from the shitake mushrooms, dice finely.
Mix the marinade(hua tiao wine, sugar, corn flour, garlic oil, sesame oil, chicken seasoning powder, pepper) and marinate the minced meat.
Add the mushrooms and garlic to the marinated meat.
Add in corn flour and mix well. Slice each prawn into 2cm-wide pieces and add in the pork mixture.
Place a tablespoon of the meat mixture in the middle of each wonton wrapper.
Using a finger to dab water on the edges of each wrapper, then fold up the sides and gently pinch to create folds, leaving the top of the dumpling open.
Place the wrapped dumplings in a bamboo steamer lined with a sheet of parchment paper.
Gently press the sides of the siew mai to create a cube-like shape.
Garnish with scallop slices. Steam for 12 minutes, then serve hot.