Enjoy this light-as-air Sesame Sandwich Cake paired with an easy-to-prepare Sesame Hokkaido Chantilly Cream by Chef Julie Yee!
Cuisine : Baking Course : Dessert Skill Level : Novice
Prep : 20 mins Cook : 20 mins Ready in : 40 mins Serves : 4-6

---
INGREDIENTS:
Sesame Sandwich Cake

Group 1 (Sifted Together)

90 g Cake /Top/HK Flour
1 tsp Baking Powder
1 tbsp Black Sesame Seeds

Group 2 (Beat Together)

3 no Egg White
6 no Egg Yolk
1 tsp Fine Sugar
90 g Vanilla Extract

Group 3

25 g Hot Corn Oil
50 g Soya Bean Milk

Sesame Hokkaido Chantilly Cream

250 g Whipping Cream
1 tbsp Black Sesame Seeds
1 tbsp Condensed Milk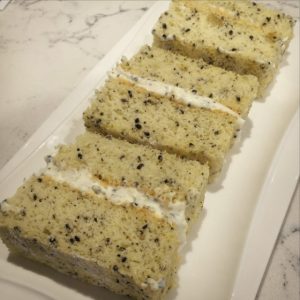 DIRECTIONS:
Sift Group1(Flour, Baking Powder & Black Sesame Seeds) together.
Beat egg white till soft peak with sugar, add in egg yolk & vanilla (Group 2)
Whisk till thick & ribbon stage
Pour in the warm Soya Bean milk & whisk for another few seconds.
Fold sifted flour.
Mix the warm oil with a scoop of batter then pour back into the mixing bowl and fold well.
Bake at 180C for 20mins.
Cover with a clean wet towel till use.

Sesame Hokkaido Chantilly Cream

Whip cream with condensed milk till soft peak.
Add in Sesame seeds and fold gently.
Sandwich cream between the 2 layers of cake.