Make your very own homemade pizza in the comfort of your own kitchen with this fuss-free recipe! The dough is a cinch to make and you can add any toppings that you'd like – this is a great one to get the kids involved in too! 
Cuisine : European Course : Main Skill Level : Novice
Prep : 90 mins Cook : 20 mins Ready in : 30 mins Serves : 6

---
INGREDIENTS:
For the Dough

200g Plain Flour
4g Sea Salt
3g Honey
1g Yeast
2g Freshly Ground Black Pepper
100g Semolina (for dusting)

For the Toppings

4-5 tbsp Tomato
2-3 fillets Anchovies
1 tbsp Olive Oil
3 tbsp Mozzarella Cheese
1g Freshly Ground Black Pepper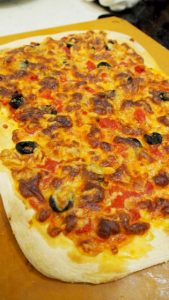 DIRECTIONS:
Mix flour, water, salt, honey and yeast in stand mixer (dough hook) until fully incorporated.
Form a ball with the dough, lightly coat with olive oil and cling film.
Rest for an hour to allow flavours to develop.


Baking the Pizza

Preheat oven to 240°C

Mix semolina with flour (50/50) in a mixing bowl.

Roll out dough onto a well-floured surface.

Transfer the rolled out dough onto a baking tray.

Ladle sufficient tomato sauce to cover the surface of the dough.

Add toppings.

Bake in oven for 4-5 mins until crust is golden brown.