Chef Julie puts a creative twist on a local favourite fruit! Each durian lava cake encases a generous serving of durian puree! Truly a durian lover's dessert!
Cuisine : Baking Course : Dessert Skill Level : Novice
Prep : 20 mins Cook : 10 mins Ready in : 30 mins Serves : 8

---
INGREDIENTS:
110g Butter
200g Durian puree
4 tbsp Yogurt
65g Plain flour
¼ tsp Salt
4 Eggs
220g Fine sugar
1 tsp Vanilla extract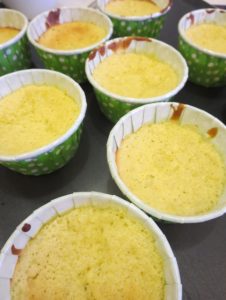 DIRECTIONS:
Preheat oven at 200ºC.
Brush melted or softened butter on 8 ramekins or individual baking cups then add about a tablespoon of sugar on each and swirl it around to coat the sides and bottom.
Whisk the softened butter and add in the durian puree.
Pour in the yogurt, sifted flour and salt.
Combine egg and sugar in the bowl of your mixer, beat on high speed until ribbon stage.
Gradually fold the durian puree mixture with the egg mixture.
Fill the cups and bake for 8-10mins at 200ºC.
Cool for about 5-10 minutes before inverting each onto a plate.