This delicious Seafood Laksa Aglio Olio is spicy, rich, amped with prawns, squid and clams!
Cuisine : Asian Course : Main Skill Level : Novice
Prep : 15 mins Cook : 20 mins Ready in : 35 mins Serves : 2

---
INGREDIENTS:
200g All-purpose flour (Homemade Pasta)
2 Large eggs (Homemade Pasta)
SPICE PASTE: * – Grounded ingredients
20g * Fresh turmeric, skinned
15g * Galangal (Blue Ginger)
20g * Fresh red chili
1 stalk * Lemongrass, sliced
100g * Red onion
20g * Belacan
30g * Candlenut
50g * Dried chili paste
50g * Dried prawn
150g Coconut milk
100ml Coconut water
100ml Water
Laksa leaves for garnish
Sliced fish cakes for garnish
Tau Pok for garnish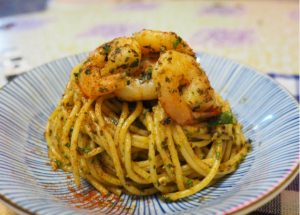 DIRECTIONS:
Homemade Pasta
In a stand mixer attached with a dough hook, combine all ingredients and mix.
Beat until dough become light yellow, smooth and soft.
Dust with semolina flour.
Using a pasta machine, flatten and cut dough accordingly.
Sauce
Combine all ingredients in the food processor and pulse.

Meanwhile, heat up oil in a frying pan. Sauté the paste over low heat until fragrant and dry. Add some laksa leaves.

Add water to the pot and let it simmer. Add coconut milk and coconut water.
Season with salt and sugar to taste.
Add in seafood. Simmer on a medium low heat.
While the laksa gravy is simmering, boil water in a pot to blanch the pasta until Al dente for approximately 4-5 mins.