Al Cartoccia is an Italian cooking method where you cook the fish in a paper parcel. Baked with oregano, lemon, white wine and tomato chutney, Chef Gusto's Sea Bass Al Cartoccia is delicious and flavourful!
Cuisine: European Course: Main Skill Level : Novice
Prep : 20 mins Cook : 35 mins Ready in : 55 mins  Serves : 1-2 Servings
---
INGREDIENTS                                          
1 fillet Sea Bass
2g Fresh Oregano
½ no Lemon
1 tbsp Olive Oil
25ml White wine
Pinch of Sea salt and pepper
2 tbsp Tomato Chutney
Idaho Potato
Tomato Chutney
5 large Vine Tomato Fresh
½ no Onions
¼ tsp Salt
¼ tsp Cayenne
½ tsp Pepper
¼ tsp Cider Vinegar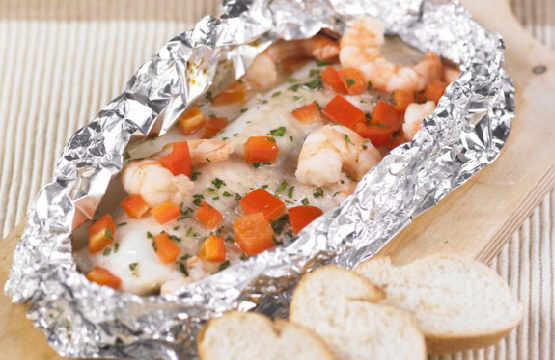 DIRECTIONS       
Preheat oven to 400 degrees.
Wash and peel Idaho potato and steam for about 15mins (3/4 cooked). Slice and season with butter, salt and pepper.
Fillet the sea bass, remove all scale, wash and tap dry with kitchen towel.
Cut 4 (12 inch square of parchment paper or a heavy duty foil) and spread the squares out on work surface.
Dice up all the vine tomato, onions, and cayenne pepper. Add in salt, pepper and cider.
Mix the chutney evenly and put aside.
Combine oregano, oil and the next 4 ingredients in a small bowl.
Rub evenly over both sides of the sea bass fillets and place on the centre of the foil.
Drizzle white wine and olive oil over the fish, seal the packets closed so that they are airtight. Place on baking tray and bake for 20mins.
Cut open the top and serve immediately.