You know your Mama best, but we're sure she'll love this Butterscotch Crème Brulee!
Cuisine : Baking  Course : Dessert  Skill Level : Novice
Prep : 145 mins Cook : 25 mins Ready in : 2 h 50 mins  Serves : 6 servings
---
INGREDIENTS             
2 cups Heavy Cream
6 tsp Brown Sugar, packed tightly
2 tbsp Unsalted Butter
½ tsp Kosher Salt
1 cup Whole Milk
6 large Egg Yolks
½ cup Granulated Sugar
Sea Salt (optional)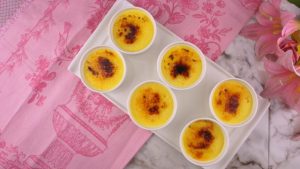 DIRECTIONS       
Preheat oven to 160°C.
In a large saucepan over medium-high heat, add 1 cup of the heavy cream, brown sugar, butter and kosher salt. Bring to boil, stirring with wooden spoon until sugar dissolves. Lower heat to a simmer and stir occasionally, until mixture is golden brown in colour (approximately 8-10 mins). Be careful not to burn the mixture! Transfer to glass bowl to cool.
Once mixture has cooled, whisk in remaining heavy cream, milk, and egg yolks.
Transfer mixture to a large measuring cup. Pour mixture evenly into 8 medium-sized ramekins. Place ramekins onto a roasting pan and add hot water into pan until it comes halfway up to the ramekins.
Bake till edges are set but center jiggles slightly, approximately 25 mins.
Remove ramekins from pan and allow to cool completely in refrigerator, approximately 2 hours.
Top each ramekin evenly with 1 tsp sugar. Using a kitchen blowtorch, brown the top of the Crème Brûlées until sugar melts and turns deep golden brown in colour. Repeat with the remaining ramekins. Sprinkle lightly with sea salt if desired.