Everyone likes sausages and eggs. With Sausage Frittata, an egg-based dish, you get the combination of the two, which is easy to make yet rich in flavour.  Add Roasted Garlic Mayonnaise and you will have the perfect meal for gatherings or a late-night supper!
Cuisine : Mediterranean Course : Appetizer Skill Level : Novice
Prep : 15 mins Cook : 30 mins Ready in : 45 mins Serves : 2

---
INGREDIENTS:
6 Eggs (lightly beaten)
2 tbsp Concentrated Chicken Stock
2 tbsp Oil
1 Onion (sliced)
2 Bockwurst Sausages (sliced)
Oil (for cooking)
Roasted Garlic Puree
6 Whole Garlic Bulbs (break into cloves, unpeeled)
500ml Olive Oil
1 tbsp Coarse Salt
1 tsp Coarse Black Pepper
Aioli
1 tbsp Roasted Garlic Puree
200g Mayonnaise
2 tbsp Chopped Parsley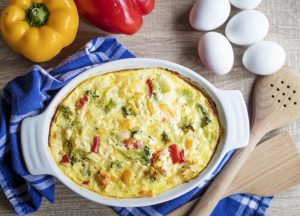 DIRECTIONS:
          Sausage Frittata
Combine beaten eggs in bowl with concentrated chicken stock. Heat 2tbsps of oil and sauté onions. Mix the sautéed onions and sausages. Add to the beaten egg mixture.

Heat oil in pan and add egg mixture. Scramble till almost set and allow the bottom of the frittata to brown slightly.

Cover pan with a plate of a slightly bigger size. Flip over and slide the frittata back into the pan. Cook for another 5-10minutes on low heat and serve frittata with the pre made garlic mayonnaise.

Roasted Garlic Puree

Preheat oven to 160°C. Toss garlic cloves with oil, salt and pepper. Roast in oven for ½ hour. Allow to cool.

Peel the garlic cloves and puree the roasted garlic with olive oil into a paste. Store in an air tight jar and cover the top of the paste with a layer of olive oil. Chill when not in use.

Mix the roasted garlic puree with the mayonnaise and chopped parsley. Serve as a dip or spread for sandwiches.