Braised Chicken with Chestnuts and Mushrooms is one memorable succulent dish. Try cooking this traditional recipe and be amazed at how easy it is to create an impressive mushroom dish!
Cuisine : Asian Course : Main Skill Level : Novice
Prep : 15 mins Cook : 110 mins Ready in : 125 mins Serves : 4

---
INGREDIENTS:
Gravy
2 tbsp Oil
2 slices of Old Ginger
6-8 cloves of Garlic (unpeeled, smashed)
1 piece of Cao Guo (Indian Cardamon)
1 piece of Cinnamon Stick
1 tsp Cloves
1 piece of Danggui
1 tsp Sichuan Peppercorns
2 pieces of Star Anise
150ml Japanese Soya Sauce
1 tbsp Dark Soya Sauce
1 tsp Salt
550ml Water
2 tbsp Sugar (or 60g Rock Sugar)
2 pieces of Coriander Root
Stuffing
200g Fresh Chestnuts (peeled)
100g Carrots (cut into cubes)
30g Dried Shitake Mushrooms (soaked)
Assembly
1 Whole Chicken (~1.2-1.5kg), chopped into bite-sized pieces
4 tbsp Oil
Cornstarch (for thickening)
Fresh Coriander Leaves (for garnish)
Dash Shaoxing Huatiao Wine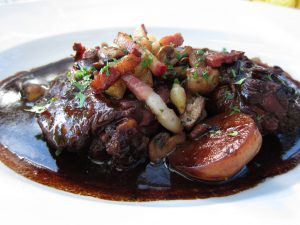 DIRECTIONS:
Heat oil and sauté garlic and whole spices for gravy till fragrant. Combine rest of ingredients for gravy in a sauce pot.
Bring to boil and simmer for 30 minutes. Strain sauce and discard spices.
Half fill pressure cooker with water. Add chestnuts and pressure cook for 30 minutes.
In a braising pan, heat oil and lightly brown the chicken pieces. Add the carrots, mushrooms and pour in the pre-simmered gravy. Bring to boil and simmer for 40 minutes.
Thicken braising sauce slightly with cornstarch solution. Serve chicken garnished with coriander leaves and drizzle some Shaoxing Wine over.