This version of Paella Valencia, a Spanish rice dish, comes cooked with seafood and chicken. Fry the rice correctly and balance different flavours from ingredients such as seafood, veggies and spices to get impressive results.
Cuisine : Mediterranean Course : Main Skill Level : Novice
Prep : 10 mins Cook : 45 mins Ready in : 55 mins Serves : 4

---
INGREDIENTS:
Sofrito
6 tbsp Extra Virgin Olive Oil
½ White Onion (chopped)
2 Tomatoes (diced)
1 tsp Chopped Garlic
Paella
1 cup of Short Grain Rice (~150g), washed and drained
1½ cup of Water (~270ml)
3 tbsp Concentrated Chicken Stock
½ tbsp Paprika Powder
½ tsp Saffron Threads (optional)
100g Red and Yellow Peppers (sliced)
100g Frozen Clam Meat
150g Peeled Shrimp
150g Fish Fillets
2 bunches of Flat Leaf Parsley (chopped)
Lemon Wedges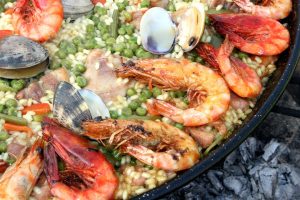 DIRECTIONS:
Heat oil in full metal braising pot, sauté onions, tomatoes and garlic for 10-15 minutes until soft and aromatic.
Combine Maggi Chicken Stock with water. Add spices to the sofrito mixture, cook for 2 minutes. Preheat oven to 200°C.
Mix in the rice and pour in chicken stock, bring stock to the boil and add the bell peppers.
Transfer paella to oven and bake for 20-30minutes. Add clam meat, shrimps and fish fillet in last 15 minutes of baking. Sprinkle with chopped parsley and garnish with lemon wedges before serve.