Did you know that Petai has 4 times more protein, 5 times more vitamin A and iron than an apple? And if you are a lover of spice, you will definitely love our Sambal Petai with Prawns.
Cuisine : Asian Course : Main  Skill Level : Novice
Prep : 20 mins Cook : 20 mins Ready in : 40 mins Serves : 4 servings
---
INGREDIENTS       
SAMBAL BELACHAN    
6 Red chili
6 Chili padi
20g Belachan, toasted
1 Shallots
1 clove Garlic
250g Prawns, large, shelled, head and tail intact
50g Tamarind pulp
125ml Water
100g Petai beans
1tbsp Sugar
1 tsp Salt
1 Red chili, sliced
2 cloves Garlic, sliced and fried
2 Shallots, sliced and fried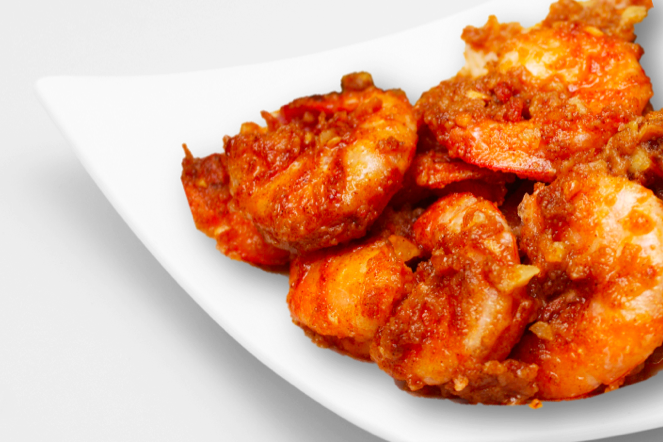 DIRECTIONS:
Prepare the tamarind water by mixing the tamarind pulp with water and strain.
Blend the sambal belachan ingredients to a smooth consistency.
Heat the oil in a hot pan and fry the prawns until half cooked. Add the sambal belachan and petai beans; and stir fry for 1 minute. Add the tamarind water, salt, and sugar; cook until the prawns are cooked through.
Garnish with sliced red chili, fried garlic, and shallots.