Also known as anchovies in chili paste, this paste is crucial for a good nasi lemak. The ikan bilis is mixed with a sautéed shallots, garlic and lemon grass fusion then doused with ample chili paste and spoonfuls of belachan.
Cuisine : Asian Course : Condiment Skill Level : Novice
Prep : 15 mins Cook : 25 mins Ready in : 40 mins Serves : 10

---
INGREDIENTS:
200ml Oil (plus extra if needed)
200g Shallots (finely minced)
4 cloves of Garlic
2 stalks of Lemon Grass (trimmed, use only bottom half)
50g Dried Anchovies or Ikan Bilis (rinsed)
500ml Wet Chilli Paste
2 tbsp Belachan Powder
100g Sugar or Gula Melaka
1 tsp Salt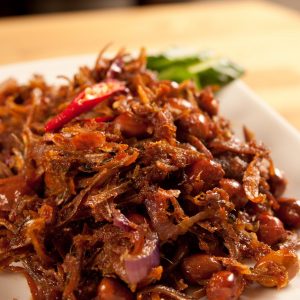 DIRECTIONS:
Finely ground shallots, garlic and lemon grass together into a paste.
Heat oil and sauté the paste till fragrant, add dried anchovies and cook for another minute.
Pour in wet chili paste and cook slowly over low heat for 20 minutes until sauce becomes a rich red. Add extra oil if necessary.
Add belachan powder, sugar and salt to the chilli paste, cook for another 2 minutes and allow cooling before keeping the fridge or freezer.