This is possibly the easiest and quickest pasta dish. Using only 5 other ingredients, this easy meal does not compromise its taste. Add Parsley if desired.
Cuisine : European Course : Main Skill Level : Novice
Prep : 5 mins Cook : 15 mins Ready in : 20 mins Serves : 6

---
INGREDIENTS:
1 packet of Long Pasta (500g)
200ml Water (from cooking pasta)
150ml Extra Virgin Olive Oil
3 tbsp Chopped Garlic
3 tbsp Chilli Pepper Flakes
1 stalk of Parsley (chopped)
Salt (to taste)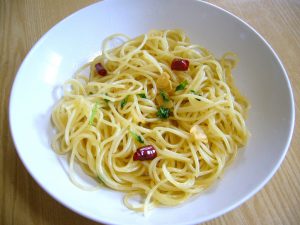 DIRECTIONS:
Boil pasta in plenty of boiling water according to recommended time on label (less 2 minutes). Stir constantly and when ready, drain and set aside.
Heat oil in pot, sauté garlic and chilli flakes till fragrant. Return pasta to pot, pour in reserved water and add the chopped parsley. Season to taste.
Serve pasta with grilled meats or seafood.