In celebration of SG50, Chef Eric Low shares how to prepare Sambal Chili Crayfish with Crispy Kang Kong! Singaporeans love their chilies and Sambal Chili is a spicy condiment used in many local food such as char kway teow, Hokkien Mee, Kang Kong or stingray.
Cuisine : Asian Course : Main Skill Level : Novice
Prep : 20 mins Cook : 30 mins Ready in : 50 mins Serves : 4

---
INGREDIENTS:
Sambal Chili

200g Shallots, minced
20g Garlic
30g Lemongrass
20g Candlenuts
20g Belachan
250ml Oil
1 tbsp Cincalok
50g Palm Sugar
100g Chili Paste

Garnish

100g Kang Kong, trimmed
Flour for dusting
Tempura Batter
Salt to taste

Assembly

8pcs Medium Crayfish, shelled and clean
2 tbsp Oil
2 tbsp Chopped Dried Shrimps
100g Red Onions
80g Sambal Chili from above
2 tbsp Ketchup
100ml Water
½ no Tomato, seeded and diced
1 stalk Spring Onion, diced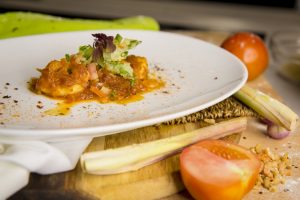 DIRECTIONS:
In a food processor, blend shallots, garlic, lemongrass, candlenuts and belachan. Heat oil in sauce pan, sauté the paste mixture and chili paste till fragrant. Add cincalok and palm sugar. Thin out with a little water if necessary and cook for 15 mins. Set aside.
Dust kang kong vegetable with flour. Dip in tempura batter and deep fry in hot oil till crispy. Drain and set aside.
Heat oil in wok. Sauté dried shrimps till fragrant, add the red onions and cook briefly. Add the cray fish pieces and stir in the sambal chili, ketchup and water. Bring to boil, cook for another two minutes.
Transfer crayfish to serving dish, garnish with extra sauce, diced tomatoes, spring onions and crispy kang kong.