Enjoy this lovingly made Salted Chocolate Cakelets layered with a rich Salted Chocolate Ganache that is perfect for any occasion
Cuisine : Baking Course : Dessert Skill Level : Novice
Prep : 20 mins Cook : 25 mins Ready in : 45 mins Serves : 6-8

---
INGREDIENTS:
225g Unsalted Butter
68g Cocoa Powder
90g Boiling Water
177g Milk
293g Cake Flour
4g Baking Soda
4g Salt
380g Sugar
2tsp Vanilla Extract
3 Large Eggs
250g Heavy Cream
250g Chocolate
8g Salt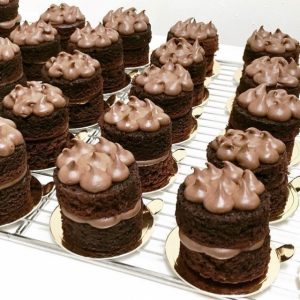 DIRECTIONS:
Mix cocoa powder and boiling water together till combined. Stir in milk and set aside to cool.
Sift cake flour, baking soda and salt together. Set aside.
Cream butter and sugar till light and fluffy.
Add eggs gradually followed by vanilla extract.
Gradually add in flour and cocoa powder mixture alternately.
Pour into baking sheet and bake at 180c for 25 minutes or till toothpick comes out clean.
Heat cream & salt till bubbles.
Pour onto chocolate and stir till glossy.