Oozing with tarragon butter, this tasty and crispy Chicken Kiev recipe will leave you wanting more!
Cuisine : European  Course : Main  Skill Level : Novice
Prep : 80 mins Cook : 15 mins Ready in : 1 hr 35 mins  Serves : 2 Servings
---
INGREDIENTS             
8 tbsp/ 110g Unsalted Butter, softened
1 tsp Dried Parsley
1 tsp Dried Tarragon
1 tsp Kosher Salt, plus extra for seasoning chicken
¼ tsp Freshly ground black pepper, plus extra for chicken
2 large Boneless skinless chicken breast halves
2 cups Whole eggs, beaten with 1 tsp water
Japanese bread crumbs (panko), plus ¼ cup for filling
Vegetable oil, for frying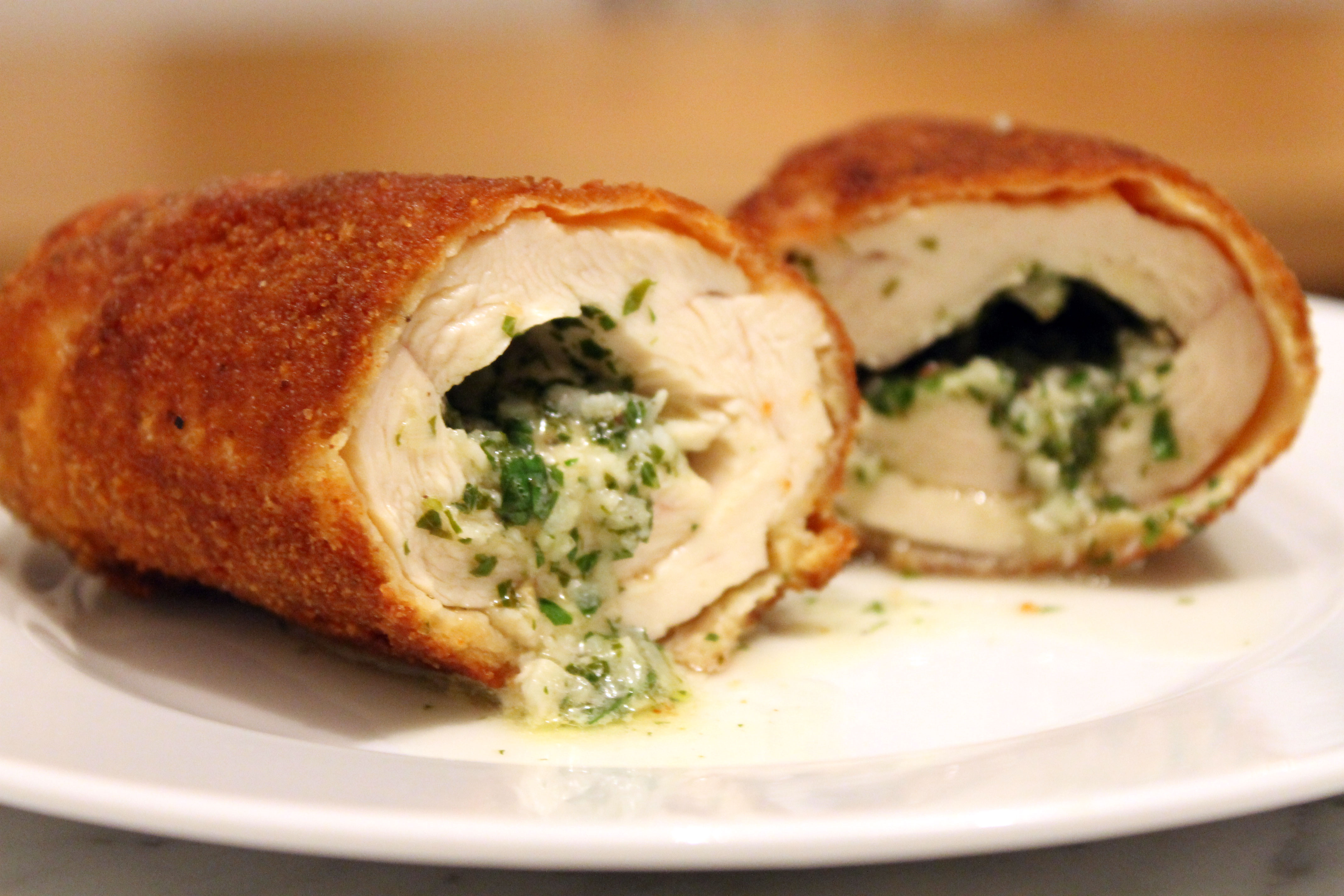 DIRECTIONS
Combine butter, parsley, tarragon, 1 teaspoon salt, and 1/4 teaspoon black pepper in a bowl. Mash with a fork to combine. Place mixture on plastic wrap or waxed paper and roll into small log; place in freezer.
Place chicken breasts, 1 at a time, between 2 pieces of plastic wrap. Pound to no less than 3.5mm thickness. Season each piece of chicken with salt and pepper.
Lay 1 chicken breast on a new piece of plastic wrap and place ¼ of the compound butter and 1tablespoon breadcrumbs in the centre of each breast. Using the plastic wrap to assist, fold in ends of breast and roll breast into a log, completely enclosing the butter; roll very tightly. Repeat with each breast. Place chicken in refrigerator for 1-2 hours, or up to overnight.
Place egg and water mixture in a shallow dish and 2 cups bread crumbs in a different shallow dish.
Heat 1/2-inch of vegetable oil in a large frying pan over medium-high heat.
Dip each breast in the egg mixture and then roll in the bread crumbs. Gently place each breast in oil, sealed-side down, and cook until golden brown, approximately 5-6 minutes on each side until the chicken is golden brown. To test for doneness, cut into one of the rolled chicken breasts to make sure it doesn't have a pink interior. Remove to a cooling rack set in a tray and allow to drain for 5 to 10 minutes before serving.
Alternate method is to finish off in the oven:
To cook, heat oven to 180C. Heat the oil in a large frying pan over a medium-high heat. Fry the Kievs for 2 to 3 mins each side until golden – you may need to do this in batches. Transfer to a baking tray and cook for 20-25 mins until cooked through.