Have a taste of famous Hainanese Bread Pork Chop with Chef Julie's recipe.
Cuisine : Asian  Course : Main Skill Level : Novice
Prep : 2hr 15 mins  Cook : 15 mins Ready in : 2 hr 30 mins  Serves : 1-2 Servings
---
INGREDIENTS
20pcs Cream Crackers
2 no Eggs
1 tbsp Minced Garlic
1 no Big onion
2 no Tomato
3 rings Pineapples Rings (cut)
600gm Pork Collar
Marinade

½ tsp Baking Soda
1 tsp Five Spice Powder
½ tbsp. Fine Sugar
1 tbsp Minced Garlic
1 tbsp Fermented Bean Paste
1 tsp Sesame Oil
1 tbsp Light Soya Sauce
1 tbsp Corn Flour

Gravy

5 tbsp Tomato Ketchup
1 tbsp HP Sauce
1 tbsp Worcestershire Sauce
1 tbsp Sugar
1 tbsp Hua Tiao Wine
1 cup Water
½ tbsp. Corn Flour (dilute with 2 tbsp water)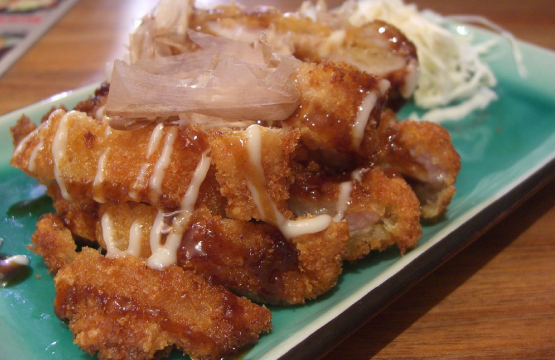 DIRECTIONS
Butterfly the Pork Collar into about 1/2cm slices and flatten them slightly.
Marinate the pork with the marinate ingredients for minimum 2hrs or overnight.
Blend the cream crackers.
Coat the pork slices with the beaten eggs and coat with the cream crackers.
Fry pork slices until is golden brown and drain dry.
Heat oil and add the garlic.
Add in the red onions and add in the tomato and pineapples slices.
Pour in the gravy seasonings.
Thicken gravy with the corn flour mixture.
Pour sauce onto the fried pork.
Serve with mixed vegetables and fries.