Enjoy a luscious Salted Caramel Mousse that is creamy, fluffy, salty and sweet; simply perfect for any occasion!
Cuisine : European Course : Dessert Skill Level : Novice
Prep : 10 mins Cook : 140 mins Ready in : 150 mins Serves : 6-8 Servings

---
INGREDIENTS:
Mousse

100g Cream 35% fat
200g Whole Milk
5g Salt
4 Egg Yolk
20g Sugar
10g Cornstarch (2 ½ tsp)
2g Gelatine (1 leave)
250g Whipped Cream

Crunchy Almonds

100g Almond Flakes
2 tbsp Icing Sugar
2 tbsp Egg White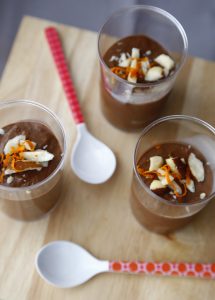 DIRECTIONS FOR MOUSSE
Rehydrate gelatine in cold water.
In a large pan, melt sugar on medium heat until caramelized. Don't use a spatula or spoon; just move the pan from time to time in order to melt it.
Heat cream in a small jug in microwave or in a small pan.
Out of Heat! Add in hot cream to the caramel and wait until the temperature choc passes, then add milk (room temperature) – put back on fire and using a wooden spoon, bring to a boil until all the caramel has dissolved – add an extra pinch of salt if you wish.
In a separate bowl whisk egg yolk and sugar until white and foamy, using a whisk. Add corn-starch and mix again. Pour hot caramel milk on the egg mixture and whisk well.
Out of the fire pour everything back into the pan, then put back on the fire and never stop stirring with the whisk until the cream-egg mixture comes to a boil. It will thicken and all the foam will disappear. Pout into a bowl, add soft gelatine, mix and place bowl on ice water, in order to cool the cream down – stir from time to time.
Add half of the whipped cream and fold into the caramel cream, using a whisk.
Divide into 6-8 small bowls (100ml), cover and refrigerate.
When the mousse has set (about 2 hours later), garnish with whipped cream and crunchy almonds.
DIRECTIONS FOR CRUNCHY ALMONDS
In a bowl, combine egg white and sugar, add almond flakes and milk until almonds are coated with sugar-egg white mixture.
Spread on a baking tray covered with a baking paper.
Bake for 10 minutes at 180C in preheated oven until golden.