Learn to make this spectacular Mini Croquembouche made of lovely little cream puffs filled with a rich pastry cream and coated with a sugar net.
Cuisine : European Course : Dessert Skill Level : Novice
Prep : 20 mins Cook : 35 mins Ready in : 55 mins Serves : 1 Mini Croquembouche

---
INGREDIENTS:
Basic Choux Pastry

75g All-Purpose Flour
60g Unsalted Butter
1 tbsp Cream
150ml Cream
1 tsp Caster Sugar
¼ tsp Salt
Vanilla Extract
2 Eggs – room temperature

Pastry Cream

2 cups Cream
Vanilla Extract
6 Egg Yolks
50g Granulated Sugar
25g Corn Starch
1 tbsp Unsalted Butter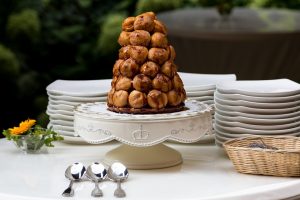 DIRECTIONS FOR CHOUX PASTRY
In a medium pot, add in salt, cream, water and sugar.
Add in butter and bring to boil.
Turn off heat and add in sifted flour. Stir quickly with a wooden spoon.
Return to heat and continue mixing until it forms a ball paste.
Add in 1 egg at a time, mixing well until you get a smooth paste.
Use a piping bag and pipe the paste onto a baking tray lined with baking sheet.
Wet your finger tip with some water and gently push down the tip of the pastry.
Bake at 200ºC for 18 – 20 minutes until puffy and golden brown.
Set the pastries on a cooling rack to cool completely before piping in filling.
DIRECTIONS FOR PASTRY CREAM
In a medium saucepan, heat the cream and vanilla to a boil over medium heat. Immediately turn off the heat and set aside for 5 minutes.
In a bowl, whisk the egg yolks and sugar until light and fluffy. Add the corn starch and whisk vigorously until no lumps remain. Whisk in hot cream mixture and pour entire mixture back into the saucepan and whisk until incorporated.
Allow to cool in pastry bag then in the fridge before piping into profiteroles.