The mushroom sauce definitely matches the savoury taste of the rosemary chicken chops. This succulent dish makes delicious way to end the day!
Cuisine : European Course : Main Skill Level : Novice
Prep : 10 mins Cook : 25 mins Ready in : 35 mins Serves : 4

---
INGREDIENTS:
Marinade
½ tsp Salt
1 tsp Coarse Ground Black Pepper
2 stalks of Rosemary (chopped)
1 tbsp Dijon Mustard
1 tsp Chopped Garlic
4 tbsp Extra Virgin Olive Oil
4 pcs of Boneless Chicken Leg (approximately 650g)
Sauce
1 tbsp Butter
½ tsp Chopped Garlic
50g Chopped Onion
100ml White Wine
250g Button Mushrooms (sliced)
300ml Whipping Cream
1 tbsp Chicken Stock Seasoning Powder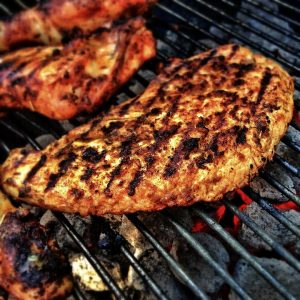 DIRECTIONS:
Combine ingredients for marinade and use it to season the chicken chops.
Heat oil in pan, pan fry chicken till cook, and set aside to keep warm.
Heat butter in pan and sauté the garlic and onions till fragrant. Deglaze with wine and add mushrooms. Cook mushrooms until cream is slightly reduced and season sauce with concentrated chicken stock.
Pour sauce over the chicken chops and serve immediately.