Ayam Rendang is a popular Malay all-time favourite dish. Slowly cook it for the spices to blend and the chicken becomes tender.
Cuisine : Asian Course : Main Skill Level : Novice
Prep : 75 mins Cook : 15 mins Ready in : 90 mins Serves : 4

---
INGREDIENTS:
Spice Paste
200g Shallots
90g Lemon Grass
80g Galangal
30g Garlic
40g Ginger
4g Turmeric Powder
30g Belachan Paste
50g Buah Keras
Rendang
4 Whole Large Chicken Thighs (cut into 4cm pieces)
1 tbsp Curry Powder
8 tbsp Oil
100g Spice Mix (Rempah)
200g Chilli Boh (Wet Chilli Paste)
2 stalks of Lemon Grass (crushed)
8-10 pieces of Kaffir Lime Leaves
300ml Coconut Milk
100ml Water
3 tbsp Maggi Concentrated Chicken Stock
100g Gula Melaka
100g Fried/Toasted Grated Coconut (Kerisik)
Coriander Leaves
Sliced Red Chilies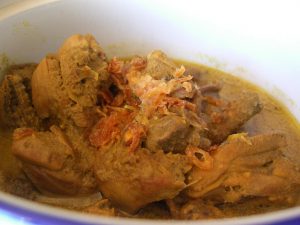 DIRECTIONS:
Blend all ingredients for spice paste together except adding in the turmeric powder. Keep frozen and defrost one day ahead in fridge when ready to use. Scoop amount as desired in recipe.
Marinate chicken legs with curry powder for at least an hour or overnight. Lightly brown the chicken pieces in a hot pan with some oil and set aside.
Heat the 8 tbsps of oil and fry spice paste till fragrant. Add chilli paste and curry powder and return chicken to the spice mixture.
Add in lemon grass stalks and kaffir lime leaves, then pour in coconut milk and water. Bring to them boil and simmer until sauce is reduce by half and almost thick and chunky.
Season rendang with Maggi Concentrated Chicken Stock and add in the toasted kerisik. Just before serving, add coriander leaves and sliced red chilies.