These addictive morsels of Rocky Road Peanut Clusters only require FIVE ingredients and are made in the microwave! A delicious sweet treat for everyone to enjoy! 
Cuisine : Baking Course : Dessert Skill Level : Novice
Prep : 5 mins Cook : 5 mins Ready in : 10 mins Serves : 24 pieces

---
INGREDIENTS:
1 cup semi-sweet chocolate chips
1 cup butterscotch chips
1 tbsp vegetable oil or shortening
1 1/2 cups roasted, lightly salted peanuts
1 1/2 cups miniature marshmallows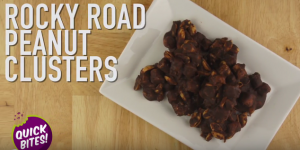 DIRECTIONS:
Melt chocolate chips, butterscotch chips and a tbsp of vegetable oil in a bowl until smooth.
Quickly stir in the peanuts and marshmallows.
Drop spoonfuls of the mixture onto a baking sheet.
Freeze it for 20 minutes before enjoying it!