Roasted Quail with Parma Ham and Mushroom Stuffing with Celriac Mash
by Francois Mermilliod

Learn how to cook with the delicate quail with Chef Francois Mermilliod's recipe! It is a juicy and hearty game dish that is stuffed with savoury mushrooms and wrapped in Parma ham!
Cuisine : European Course : Main Skill Level : Novice
Prep : 30 mins Cook : 30 mins Ready in : 60 mins Serves : 4

---
INGREDIENTS:
4 Completely deboned quails
4 Large slices of Parma ham
300 g Mushroom (Portobello or button)
2 cloves Garlic
1 tbsp Butter
1 tbsp Chopped parsley
2 tbsp White wine
2 tbsp Veal stock
1 tbsp Cream
Few Drops of Truffle oil
1/2 pc Celeriac
2 pcs Potatoes
2 tbsp Butter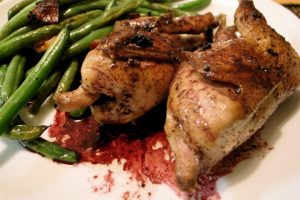 DIRECTIONS:
Cut the mushrooms into small pieces.
In a frying pan, sautéed the mushroom for 2 mins with some olive oil, add the chopped garlic.
Season with salt and pepper (add to taste).
Add chopped parsley and butter, and let it cool down.
Put some mushroom stuffing in the quail and roll it together with the Parma ham.
Roll into cling wrap like a sausage and simmer in water for 8 mins.
Remove the cling wrap.
Pan-fry the quail all around for a few minutes.
Allow the quail to rest.
Deglaze the frying pan with the white wine.
Add the veal stock and cream and reduce, add the truffle oil when it is ready.
Slice the quail and serve with the celeriac mash and the sauce.
For the Celeriac Mash, follow Steps 14 to 16.
Peel and cut the potatoes and celeriac into small pieces.
Cook in salted boiling water till soft (15 minutes).
Pass through a sieve, add some butter and season with salt and white pepper (add to taste).