Spongy and airy Early Grey Chiffon Cupcake filled with light Earl Grey Cream is the perfect dessert for an unforgettable dinner!
Cuisine : Baking Course : Dessert Skill Level : Novice
Prep : 30 mins Cook : 20 mins Ready in : 530 mins Serves : 10 cupcakes

---
INGREDIENTS:
Egg Yolk Batter
4 Egg Yolks
35 g Icing Sugar
40 g Vegetable Oil
40 g Whole Milk
1 Earl Grey Tea Bag
75 g Cake Flour
Meringue
4 Egg Whites
100 g Caster Sugar
Filling
200 g Whipping Cream, Chilled
1 tbsp Icing Sugar
1 Earl Grey Tea Bag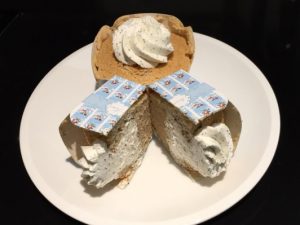 DIRECTIONS:
Cake Batter
Infuse milk and earl grey leaves overnight, set aside to room temperature before using.
Preheat oven to 160C.
Whisk egg yolks with sugar.
Add in oil and infused earl grey milk.
Sieve in cake flour and set aside.
Egg Whites: Whisk egg whites till foamy and gradually add in sugar.
Whisk till almost stiff peak forms.
Fold in meringue into the egg yolk mixture.
Pour batter into chiffon cups and give it a few slam on the table.
Bake in preheated oven for 20mins.
Immediately oven turn and cool cake when it's done.
Filling
Whisk all ingredients together till stiff peak.
Pipe into cupcakes and chill 2 hours before serving.