The perfect pairing of Azuki Beans and Green Tea Ice Cream makes the ultimate dessert. 
Cuisine : Asian Course : Dessert Skill Level : Novice
Prep : 15 mins Cook : 20 mins Ready in : 35 mins Serves : 10

---
INGREDIENTS:
Red Beans, soaked in water or overnight preferably
Water
700ml Baking Powder
½ tsp Yuzu Marmalade or Orange Jam
½ tsp Sugar to taste
Green Tea Ice Cream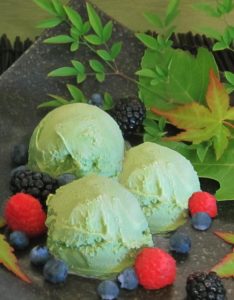 DIRECTIONS:
Place red beans in pressure cooker. Add water and baking powder. Cover and cook for 20minutes. Check the beans, cook for another 10mins if needed.
Add sugar to taste, cook the beans uncovered until thick and jam like. Add the orange jam and mix well.