Prepare this delicious and flavorful Roast Pork with Miso Dressing by Chef Eric for your loved ones!
Cuisine : Fusion Course : Main Skill Level : Novice
Prep : 20 mins Cook : 40 mins Ready in : 60 mins Serves : 4

---
INGREDIENTS:
500 g Pumpkins, washed, cut into slices
Salt
4 pcs of Pork Fillet ~140g each
Oil for cooking
1 tbsp Ginger Juice
1 tbsp Dark Miso Paste
2 tbsp Mirin
4 tbsp Mirin
1/2 no of Lemon Juice
2 tbsp Dark Miso Paste
1 tsp Chopped Ginger
2 stalks Spring Onions, finely diced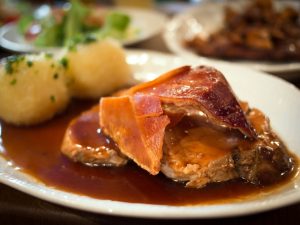 DIRECTIONS:
Preheat oven to 180C. Line baking tray with aluminium foil and season the pumpkins with some salt and drizzle it with some oil. Roast pumpkins in the oven for 30mins.
Marinate pork with ginger juice, dark miso paste and mirin for at least 15mins.
Combine ingredients for miso dressing.
Heat frying pan with some oil. Pan-sear the pork fillets on all sides. Transfer to oven and bake @ 180C for 10mins. Allow pork to cool slightly before slicing.
Arrange sliced pork on roasted pumpkins, spoon some dressing over and serve.