Enjoy the sweet symphony of chocolate and pitted cherries with this irresistible and chocolaty Black Forest Cherry Rolls by Chef Julie!
Cuisine : Baking Course : Dessert Skill Level : Novice
Prep : 15 mins Cook : 120 mins Ready in : 135 mins Serves :6

---
INGREDIENTS:
Chocolate Roll Group 1 (Sift together)

70g Cake/top flour
1 tbsp Chocolate powder
½ tsp Baking powder

Group 2 (Beat together)

3 nos. (110g) Egg whites
6 nos. (100g) Egg yolks
1 tsp Vanilla extract
Group 3
45g Hot corn oil
45g Hot milk

Milky Chocolate Cream

150g Whipping cream
1 tbsp Condensed milk
4 tbsp Melted chocolate/Nutella
1 tbsp Neutral fond powder
1 tsp Vanilla paste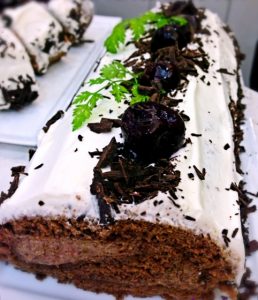 DIRECTIONS:
        For the Chocolate Roll
Sift Group 1 together.

Beat egg white till soft peaks with sugar; add in egg yolks & vanilla (Group 2). Whisk till thick and ribbon-like stage.

Pour in the warm milk & whisk for another few seconds.

Hand-fold sifted flour.

Hand-fold the warm oil.

Bake at 200°C for 10 mins.

Cover with a clean wet towel till use.

For the Milky Chocolate Cream

Whip the fresh cream.

Add in condensed milk & Neutral Fond Powder.

Brush cake with the pitted cherry syrup.

Spread cream on the Swiss roll & place pitted cherry on top.

Roll cake up tightly.