Relish every spoonful of this hearty Roast Pepper and Mascarpone soup that is packed with flavour and simple-to-make!
Cuisine : Mediterranean Course : Appetizer Skill Level : Novice
Prep : 15 mins Cook : 15 mins Ready in : 30 mins Serves : 4-6

---
INGREDIENTS:
3 (600g) Red Peppers
2 tbsp Olive Oil
1 medium Onion, chopped
2 cloves Garlic, crushed
2 Tomatoes, skinned and chopped
2 cups Vegetable stock or 1 stock cube dissolved in 2 cups of hot water
3 tbsp Mascarpone
Handful of Fresh Basil
Salt and Black Pepper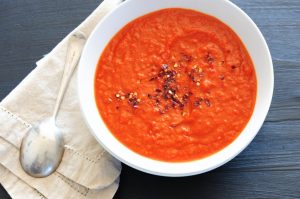 DIRECTIONS:
Roast peppers in a hot oven or on a grill pan till charred.
Transfer peppers into a bowl, cover with cling wrap and leave to stand for about 10 minutes.
Heat oil and sauté garlic and onions. Add tomatoes and stock. Simmer for 10 minutes.
Peel peppers, remove seeds and blend. Add them to the soup.
Add mascarpone cheese and basil leaves to the soup and cook till smooth. Process if necessary. Season with salt and pepper. Garnish with basil leaves.