Enjoy the simplicity of this Cream Cheese Biscuit Bun with Cranberry Jam for the perfect snack!
Cuisine : Baking Course : Dessert Skill Level : Novice
Prep : 20 mins Cook : 15 mins Ready in : 35 mins Serves : 16

---
INGREDIENTS:
90g Bread flour
80g Cake flour
1 tbsp Sugar
1 tbsp Baking powder
5 tsp Salt
¾ tsp Baking soda
130g Buttermilk
60g Cream cheese
30g Salted butter
Sprinkling of Parmesan cheese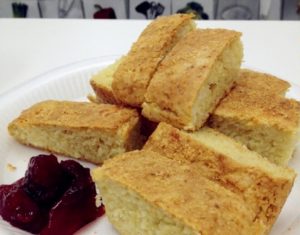 DIRECTIONS:
Mix all items except the buttermilk in a big bowl to crumb-like texture.
Make a well in the centre and pour in the buttermilk. Knead gently and briefly until dough comes together.
Roll into a rectangle 10cm x 8cm x 2cm thick and cut into 5cm square.
Bake at 220ºC till light brown for 12 -15mins. Serve warm.