Prepare a stellar Roast Beef with Pommery Mustard Finger Sandwiches for an afternoon tea get-together with your friends! Make your own Roast Beef and Pommery Mustard spread for the sandwiches; and pair it with your favourite tea for the perfect harmony of flavours!
Cuisine : European  Course : Appetizer  Skill Level : Novice
Prep : 20 mins Cook : 25 mins Ready in : 45 mins  Serves : 16 Tea Sandwiches
---
INGREDIENTS             
Roast Fillet of Beef

500g Fillet of Beef, fat and sinew removed (tie if required)
Sea Salt
Pepper
Olive Oil

Tea Sandwich

200g Roast Beef, Sliced paper thin
½ tbsp Mayonnaise
1 tbsp Pommery Mustard
8 Brown Bread, sandwich bread
Handful of Baby Spinach, thinly sliced
1 medium Red Onion, thinly sliced
Salt
Pepper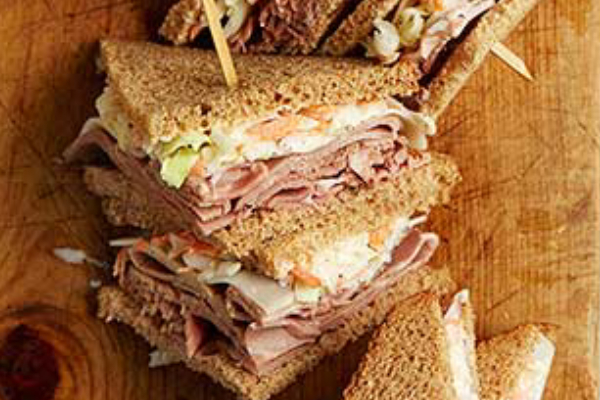 DIRECTIONS FOR ROAST FILLET OF BEEF
Preheat the oven to 180 C
To roast the beef
Place a heavy based frying pan over a medium-high heat. Add olive oil and sear the beef on all sides.
Transfer the beef into a roasting pan. Roast the meat for 25 minutes (medium well done).
When ready, transfer the beef on a plate and allow to rest and cool.
To serve the beef
Thinly slice the beef, arrange on a large platter and serve with some leafy green salad.
Note: This dish is to be eaten at room temperature. You can prepare the meat in advance and refrigerate the meat. Do bring the meat back to room temperature before serving.
DIRECTIONS FOR TEA SANDWICH
To make the mustard spread
In a small bowl, stir together the mayonnaise and pommery mustard. Season with salt and pepper.
To prepare the sandwiches
On a clean work surface, spread 4 of the bread slices with the pommery mustard mixture. Top a layer of baby spinach and onions on the bread, then add a layer of roast beef. Season with salt and pepper if required.  Top each with one of the remaining bread slices.
Using a serrated knife, trim the crusts off the sandwiches. Cut the sandwiches and arrange on a cake stand or serving platter. Serve immediately.