Ever had a savoury Crème Brulee? This luxurious and decadent velvety Foie Gras Crème Brulee shows the perfect combination of sweet and savoury!
Cuisine : European  Course : Appetizer  Skill Level : Novice
Prep :  15 mins Cook : 55 mins Ready in : 1 hr 10 mins  Serves : 10 Portions
---
INGREDIENTS                                          
Goose Liver Custard
200 Duck Consomme (Chicken Stock)
250g Foie Gras Parfait (can use Raw Foie Gras)
300g Cream
150g Milk
4g Iota
Seasoning
For Crème Brulee (Eggless)
900g Crème Brulee mix
4g Iota Carrageenan
Crème Brulee Mix
600ml Whole Milk
300ml Cream, liquid 35%
2 Cinnamon Sticks
2 strips Lemon Zest
2 strips Orange Zest
3g Star Anise
1g Fennel Seeds
2 Vanilla Pods
225g Sugar
Brown Sugar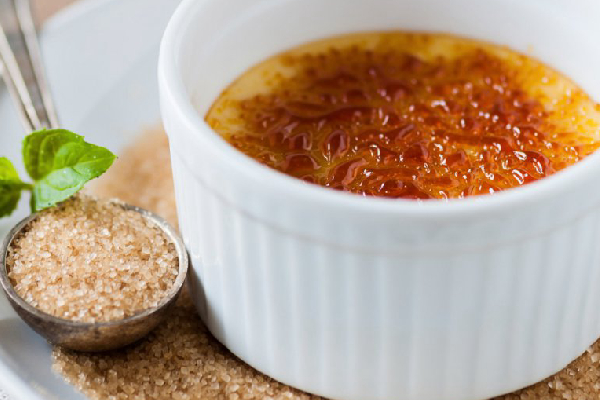 DIRECTIONS FOR GOOSE LIVER CUSTARD
Place all the ingredients together except the Iota. Preheat to 80degrees and add the Iota. Strain and keep refrigerated.
If no Iota, add all the ingredients together and place into a vacuum bag. Place the bag into a thermo circulator by 64degrees. Blend and strain. Give the mixture into small bowls (fill first with the duck confit, ginko beans, truffle salsa), set on a tray with a bit of water. Bake in the oven for 8-15minutes, depending on size of the baking glass.
DIRECTIONS FOR CRÈME BRULEE
Combine the milk, cream, vanilla pods (cut in half and scraped out), sugar and spices into a pot – preheat to a boil, set aside to infuse the milk with all flavouring compounds.
Once cooled down, strain thru a fine chinois into another pot, add the Iota and preheat to 90degrees. Blend well (hand blender).
Fill into desired bowls – bake it in the oven at 150C for 45mins.
Add the brown sugar and burn with a blow torch.