Start your day with this decadent and simply heavenly sandwich, enjoyed over an aromatic cup of coffee.  Add ham to your recipe for a heartier version.
Cuisine : European Course : Main Skill Level : Novice
Prep : 30 mins Cook : 10 mins Ready in : 40 mins Serves : 4

---
INGREDIENTS:
Béchamel Sauce
60g Président Unsalted Butter
50g All-Purpose Flour
400ml Fresh Milk
Salt, Pepper, Nutmeg (to taste)
3 tbsp Cooking Oil
250g Butter Mushrooms (quartered)
50g President Unsalted Butter
8 slices of Sandwich Loaf
100g President Unsalted Butter (melted)
16 slices of President Cheddar Cheese
Rocket Salad (for decoration)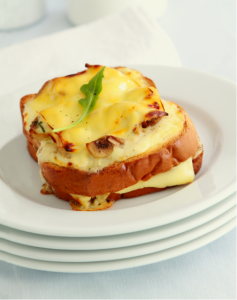 DIRECTIONS:
         To prepare sauce
In a sauté pan, melt butter over low heat. Sprinkle in flour and cook, stirring from time to time, for 5 to 10 minutes, or until the mixture turns a whiter shade. Add cold milk, season to taste, and bring gently to boil. Set aside.

To assemble sandwich

In a frying pan, heat the oil over medium heat. Add mushrooms and butter and cook for 3 to 4 minutes. Drain oil and set aside.

Brush bread on both sides with melted butter. Spread some béchamel on a slice of bread. Top with mushrooms and 2 slices of cheddar cheese. Cover with a slice of bread, spread with béchamel, top with mushrooms, then 2 slices of cheddar cheese.

To gratinate

Preheat oven to 200°C. Place sandwich in a baking pan and place on top deck of the oven. Gratinate until top is slightly browned. Serve as a hot sandwich.