Love is in the air! February is synonymous with the love month as Valentine's Day is on 14th, and this month is extra special with Lunar New Year around. Make these red velvet whoopie pies to celebrate with your loved ones, family gatherings and parties. They are mildly sweet complemented very well with the cream cheese frosting.  These are the ultimate decadence in little packages!
Cuisine : Baking Course : Dessert Skill Level : Novice
Prep : 20 mins Cook : 10 mins Ready in : 30 mins Serves : 12

---
INGREDIENTS:
For the whoopies

120g Unsalted butter
120g Castor sugar
1 tsp Vanilla extract
1 Large egg
240g Plain flour
¼ tsp Baking soda
1 tsp Baking Powder
1 tbsp Cocoa powder
½ tsp Salt
1 tbsp Vinegar
½ cup Buttermilk
1 tsp Red colouring

For the cream cheese

100g Salted butter
100g Cream cheese
150g Icing sugar
1 tsp Vanilla extract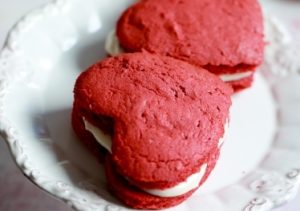 DIRECTIONS:
Cream the butter and sugar in a stand mixer or using hand mixer, until pale and fluffy
Add the vanilla and egg. Beat for few more minutes
In a separate bowl, sift the flour with cocoa powder, salt, baking soda and baking powde
In a jug, mix the vinegar with red colouring and buttermilk until just combined
Add the buttermilk mix alternating with flour mix into the batter until all is incorporated
Spoon the mix onto a silicone mat or baking paper
Bake the whoopies for 12 minutes at 180°C
For the heart-shaped whoopies
Use the Martellato Heart-shaped plunge cutter to cut out the shape once the whoopies are baked.
Prepare the frosting. Cream the butter and sugar until pale. Add in the vanilla and cream cheese, beat for few more minutes.
Tip: Cream cheese is much softer than butter so should be added last to ensure the frosting is stiff, and not runny.
To assemble: Pipe some icing onto a whoopie and sandwich with another whoopie on top.