If you love simple, easy and healthy Asian recipes, you should try this Stir Fried Japanese Udon by Chef Eric.
Cuisine : Asian Course : Main Skill Level : Novice
Prep : 5 mins Cook : 15 mins Ready in : 20 mins Serves : 2

---
INGREDIENTS:
60 ml Oil
2 medium Eggs
2 cloves Garlic, chopped
30 g Fresh Shiitake Mushrooms, sliced
30 g Onions, sliced
30 g Carrot, shredded
80 g Cabbage, sliced
30 g Green Pepper, sliced
50 g Japanese Fish Cakes, sliced
100 ml Tonkatsu Sauce
25 ml Kikkoman Soya Sauce
2 pkts Udon Noodles
10 g Spring Onions, sliced
Katsuo Bushi Flakes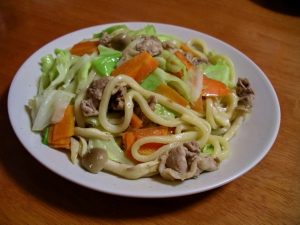 DIRECTIONS:
In a frying pan, heat the oil and scramble the eggs till foamy. Add the chopped garlic followed by the sliced vegetables and mushrooms.
Cook for another 3minutes and add in the 3 sauces and water.
Stir in the noodles and cook for 5 minutes until the water have almost evaporated but still moist.
Sprinkle with katsuo bushi flakes and spring onions just before serving.