Chef Audra Morrice adds a twist of flavour to an Aussie favourite using the freshest salmon and a tangy, tasty Szechuan dressing! This serves 4 perfectly as a starter or part of a shared meal. Enjoy! 
Cuisine : Fusion Course : Appetizer Skill Level : Novice
Prep : 15 mins Cook : 0 mins Ready in : 15 mins Serves : 4

---
INGREDIENTS:
600g Fresh atlantic/Tasmanian salmon fillet (skin on) (sashimi grade or good quality fresh salmon)
2 tbsp Micro herbs (shiso, coriander, watercress)
1 Large red chili, de-seeded, finely julienned
1 Knob young ginger, skinned, finely julienned
1 sprig Spring onion, washed, root discarded and finely sliced on the diagonal
Crispy shallots

Szechuan Dressing

1 tsp Dou ban jiang (Chilli broad bean paste)
1 tbsp Black vinegar
1 tbsp Dark soy
¼ tsp Sugar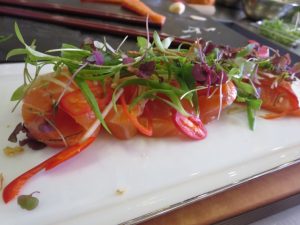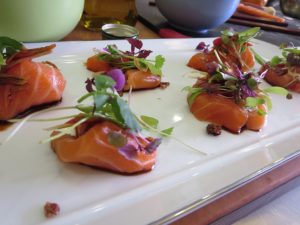 DIRECTIONS:
Using a sharp knife, barrel out the fish from the middle around towards the skin, ensuring the blood lines are left on the skin. Repeat on the belly side of the salmon.
Slice each piece of fish about ½ cm thick, place on a serving plate.
Mix the dressing ingredients together in a small bowl, taste and adjust accordingly.
Just before serving, sprinkle the dressing over the fish slices and top with the herbs, chili, ginger and spring onion.