This homemade garlic bread recipe by Chef Jehanne Ali is a real treat! It's simple to make and tastes amazingly good!
Cuisine : Baking Course : Appetizer Skill Level : Novice
Prep : 30 mins Cook : 40 mins Ready in : 75 mins Serves : 6

---
INGREDIENTS:
Brioche Dough

500g Bread Flour
50g Sugar
60g Unsalted Butter
1 no. Egg
1 tsp Salt
1 tsp Yeast
125ml Water
125ml Milk
Garlic Herb Butter
125g Butter
2-3 cloves Garlic
1 tbsp Dried Herbs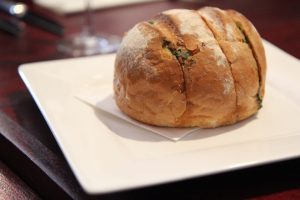 DIRECTIONS:
         For the Brioche Dough
Use the oil to grease the bowl.
Knead all the ingredients using stand mixer for around 10 minutes. Let it rise in the bowl. Punch down the air and shape into desired size and buns.
Preheat oven to 400°C on a convection oven and 425°C on a conventional oven.
Transfer pans to oven and bake until brioche just begins to turn golden, about 15 minutes. Reduce temperature to 350°C on a convection oven and 375°C conventional oven and continue baking until deep golden brown and internal temperature reaches 205°C on an instant-read thermometer, 20 to 25 minutes more.
Remove from oven and let brioche cool in pans for 5 minutes. Unmould onto a wire rack and let cool completely.

For the Herbed Butter

Mix all the ingredients together to form garlic herb butter, ideal as a spread.