If you're a durian lover, you have to try these fluffy Fresh Durian Cupcakes recipe by Chef Julie Yee! It's a durian-lover delight!
Cuisine : Baking Course : Dessert Skill Level : Novice
Prep : 20 mins Cook : 25 mins Ready in : 45 mins Serves : 8 cupcakes

---
INGREDIENTS:
Group 1
250g Butter
180g Castor sugar
Group 2
4 Egg
1 tsp Glycerine*
1/2 tsp Vanilla Extract
4 tbsp UHT Milk
Group 3
240g Cake Flour
1 tbsp Custard Powder
6g/ 11/4 tsp Baking Powder
150g Fresh Durian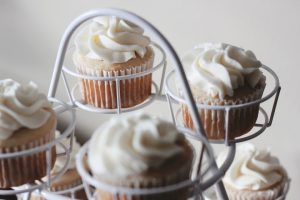 DIRECTIONS:
Pre-heat the oven at 180C about 20mins before baking.
Cream butter and castor sugar (1) until light and fluffy.
Add in the eggs and glycerine (2) and beat for another 5mins.
Add in the rest of the ingredients (3).
Bake at 180C for 20-25mins.