The school holidays are right around the corner – prepare these cutesy Hello Kitty-inspired hand rolls with your kids! They are simple and fun to prepare, not to mention delicious! 
Cuisine : Asian Course : Main Skill Level : Novice
Prep : 30 mins Cook : 0 mins Ready in : 30 mins Serves : 1-2

---
INGREDIENTS:
250g Sushi Rice
20g Oboro (pink colored fish flakes)
10cm Cheese Stick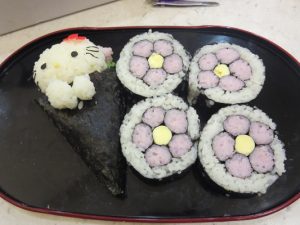 DIRECTIONS:
Divide the 250g sushi rice into 2 portions, one to mix with the Oboro to make the pink rice sushi.
Divide the pink rice into 5 equal rice balls.
Spread each rice ball evenly on a piece of nori and shape into a cylinder.
Lift the sushi mat on your left hand and place 3 rolls downwards, and then place the cheese stick and the remaining 2 rolls on top.
Wrap up and formt he flower shape.
Using 1 and ½ sheet of nori, connect both sheets with small grains of rice. Leaving 4 fingers width of nori empty, spread sushi rice evenly.
Place the flower-shaped sushi roll onto the centre of the white sushi rice.