This Hello Kitty-inspired Pan with Red Bean Filling is a great way to get the kids baking! These buns are soft, fluffy and the Azuki Bean Paste adds a sweet flavour. If you prefer a smoother Azuki filling, try mashing it with a fork before adding it into the buns!
Cuisine : Baking Course : Dessert Skill Level : Novice
Prep : 95 mins Cook : 8 mins Ready in : 103 mins Serves : 2-4

---
INGREDIENTS:
Basic Bread Dough

200g Bread flour
50g Cake flour
110g Milk
45g Sugar
8g Milk powder
7g Yeast
1 Egg
30g Olive oil
¼ tsp Salt
5g Bread improver

Azuki Bean Paste

1 cup Azuki beans
5 cups Water
¼ tsp Salt
¼ tsp Sugar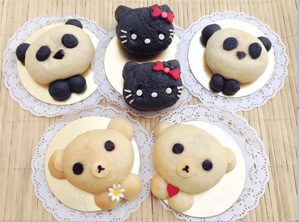 DIRECTIONS:
          For the Basic Bread Dough
Mix yeast and egg in a separate bowl. In a mixing bowl, add bread flour, sugar, milk powder, bread improver and salt. Add in eggs and yeast at the side.

Using a kitchen machine, insert the dough attachment. Mix the mixture using low speed. Pour in milk and oil and beat for 6 mins till it forms into a ball.

Cling wrap and set aside for 45 mins to proof.

Divide the dough into 10 pieces and shape dough into balls. Slightly flatten and wrap it with fillings.

Leave it aside to proof for 30 mins and bake for 8 mins at 200°C.

Remove from oven and let it cool before decorating.

For the Azuki Bean Paste

Soak azuki beans overnight (8-12 hours). Rinse azuki beans and drain excess water in colander.

Put washed azuki beans in the pot and pour water till 1-2 inch above azuki beans. Turn the heat on high.

When boiling, turn off heat and cover with lid. Let it stand for 5 mins. Throw away water and put the azuki beans into a sieve.

Put the azuki beans back in the pot. Add enough water just to cover the beans and turn the heat on high. Once boiling, turn down the heat to medium-low and keep it simmering.

Once in a while push the azuki beans under the water with a slotted spoon. Water will evaporate – keep adding water to cover just above the beans. If you put too much water, the beans will move and break.

Turn up the heat to high and add sugar in 3 separate times. Stir constantly.

Pour into a container to cool down. Do not leave it in the pot. Cover with plastic wrap and keep in the fridge to store after it cools.