Enjoy the decadent layers of soft and moist vanilla sponge with a creamy purple sweet potato mousse!
Cuisine : Baking Course : Dessert Skill Level : Novice
Prep : 20 mins Cook : 35 mins Ready in : 175 mins Serves : 10-12

---
INGREDIENTS:
3 Eggs
80gm Fine Sugar
80gm Cake Flour
1/2 teasp Baking Powder
40gm Warm Water
30gm Corn Oil
Group 1
50gm Sugar
2 Egg Yolk
Group 2
230 Mashed Purple Yam
70gm Thick Coconut Milk(Group 2)
3 Pandan Leaves
A pinch of salt
Group 3
10gm Gelatine Powder
40gm Water
200gm Whipped Cream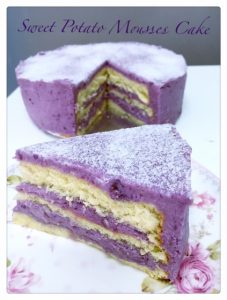 DIRECTIONS:
Whisk egg & sugar at high speed for 5 mins.
Add in baking powder & flour & whisk for another 5mins.
Pour in warm water & whisk for 1 min
Add in warm corn oil by hand. Bake the mixture in preheated 350F oven for 35mins.
Bloom the gelatin with the water in (Group 3).
Whip up the whipping cream 35%. (Group 3)
Whisk egg yolk with sugar and all ingredients in Group 2 together and cool it.
Fold in the gelatin and egg yolk mixture.
Fold in whipped cream when cool.
Layer the mousse on to the vanilla cake and chill the mousse.