A wonderful mango dessert comprising layers of mango mousse, mango cream and a cake sponge to soak it all in – an absolute must-try for mango lovers! 
Cuisine : Baking Course : Dessert Skill Level : Novice
Prep : 60 mins Cook : 10 mins Ready in : 70 mins Serves : 6-8

---
INGREDIENTS:
For the Mango Mousse

50g Orange Juice
300g Mango Puree
10g Gelatin
150g Whipped Cream
50g Egg White
50g Sugar
For the Mango Cream
1 tbsp Sugar
1 tsp Corn Flour
40g Mango Puree
1 tsp Lemon Juice
1 no. Egg
25g Butter
1 tbsp Pomelo Pulp

For the Mango Jelly

90g Mango Puree
40g Water
4g Gelatine
1 tsp Orange Liquer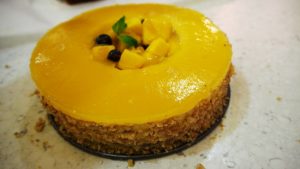 DIRECTIONS:
          For the Mango Mousse
Soak gelatin in cold water for 10 mins.

Bring the orange juice with the mango puree and basil leaf to a simmer.

Pour the gelatin into the hot mango puree

Stir the hot puree over ice water till cool.

Mix the whipped cream with the meringue briefly.

Fold the mexture into the cooled puree.

Pour into the cake ring and place a small cake ring in the middle.

Freeze the mango mousse.

For the Mango Cream

Mix everything together and go through a sieve.

Simmer the mixture in a pot till thick.

Add in the butter & pomelo pulp.

For the Mango Jelly

Boil the mango puree with the water.

Add in the gelatin.

Add in the liquer if using.

Assembly

Place a piece of sponge on the bottom.

Spread the mango cream on top.

Remove the mousse ring and the tart mould from the mango mousse.

Place on top of a wire rack.

Pour the mango jelly over the mango mousse.

Place the mango mousse on top of the sponge cake.

Spoon some mango cubes and pomelo pulp in the middle of the cake.

Brush some jelly at the side of the sponge.

Sprinkle a little almond flakes around it. Serve chilled.