Sink your teeth into this delicate and moist Lavender Yogurt Loaf that is a perfect addition to your morning coffee.
Cuisine : Baking Course : Dessert Skill Level : Novice
Prep : 155 mins Cook : 40 mins Ready in : 195 mins Serves : 2 loaves

---
INGREDIENTS:
50 gm Natural Yeast Starter (Poolish)
50 gm Bread Flour (Poolish)
25 gm Cold Water (Poolish)
300 gm Bread Flour
75 gm Plain Flour
1 teasp Salt
30 gm Honey
100 gm Cold Water
40 gm Egg White
1 1/2 teasp Yeast
80 gm Plain Yogurt
60 gm Butter
1/2 tbsp Dried Lavender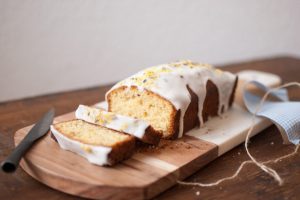 DIRECTIONS:
Mix the dry ingredients together.
Add in the wet ingredients. Knead by hands till a dough is formed. Rest for 20mins.
Mix at moderate speed for 5 to 6mins & get the right dough hydration.
Bulk Fermentation for about 1.5hrs – 2hrs.
Fold 1 time in between to strengthen the dough gluten.
Scale into 2 loaf and shape into a batard.
Final Fermentation for till double in size.
Score and Bake at low shelf with steam @ 230°C for 40mins.