Whet your appetite with a juicy Roasted Chicken seasoned with fresh fragrant herbs. This incredibly moist and flavourful chicken cooked with fresh Provencal herbs will fill your stomach with pleasure.
Cuisine : European Course : Main Skill Level : Novice
Prep : 15 mins Cook : 20 mins Ready in : 35 mins Serves : 2

---
INGREDIENTS:
2 Large Chicken Legs or 4 Medium Chicken Thighs or 1 Whole Chicken (~1.5kg)
1 tsp Paprika
½ tsp Salt
1 tsp Coarse Ground Black Pepper
1 tsp Chopped Garlic
1 sprig of Fresh Rosemary (chopped)
1 tbsp Oil
1 Medium Onion (thickly sliced)
½ Medium Carrot
½ stalk of Celery (roughly chopped)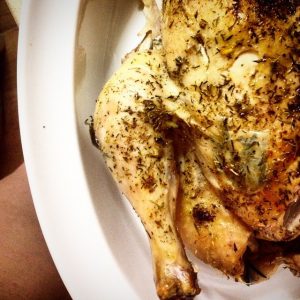 DIRECTIONS:
Mix all the spices, seasonings and oil together. Rub all over the chicken with it. Sear chicken in a hot pan till skin is lightly browned.
Preheat oven to 180°C. Line baking tray with foil. Toss the vegetables with some olive oil and salt. Spread the vegetables on the tray and place the chicken on the vegetables.
Roast chicken for about 15 minutes. Serve chicken with the roasted vegetables.
**Tip: For a whole roast chicken about 1.5 kg, roast at same temperature for 20-25minutes. Check by inserting a skewer at the thigh region and the juices are clear.