The famous Molten Lava Chocolate Cake looks intimidating, when in fact it is not difficult to create at all! Serve with a freshly-made berries sauce, this densely rich delicacy will leave you reaching for seconds.
Cuisine : Baking Course : Dessert Skill Level : Novice
Prep : 30 mins Cook : 5 mins Ready in : 35 mins Serves : 6

---
INGREDIENTS:
125g Semi Sweet/Bitter Sweet Chocolate Chips/Covertures (50% cocoa)
100g Unsalted Butter
50g Plain Flour
3 Eggs
3 Egg Yolks
1 tsp Vanilla Extract
1 tsp Instant Coffee Powder (optional)
50ml Water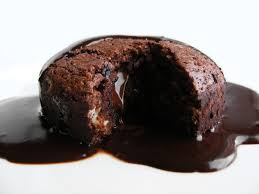 DIRECTIONS:
Preheat oven to 180°C. Butter 12 small ramekins (100ml size).
Bring a small pot of water to boil, set up a hot water bath. Place a MUM 8 pastry mixing bowl above the hot water.
Add the chocolate chips and melt together with butter until smooth. Remove from heat and allow cooling for 5-10 minutes.
In the same Mum 8 Pastry mixing bowl, add flour and sugar to chocolate/butter sauce. Beat the mixture at speed 4 and gradually stir in the eggs and yolks until smooth.
Add vanilla and coffee liqueur/instant coffee and mix until combined.
Divide the batter evenly among the each ramekin. Transfer ramekins to a baking tray and bake for 4 minutes.
Serve the cake direct in ramekins or invert to unmold by scrapping the sides with a palette knife. Compliment cake with vanilla ice cream and raspberries.