Meltingly tender and full of flavour, this show-stopping Prime Rib  paired with a simple and flavourful sauce of jus will leave you wanting for more!
Cuisine : European Course : Main Skill Level : Novice
Prep : 1440 mins Cook : 120 mins
Ready in : 1580 mins Serves : 1-2
---
INGREDIENTS:
Ribeye with bone
Onions, finely diced
Carrots, finely diced
Celery, finely diced
Salt & pepper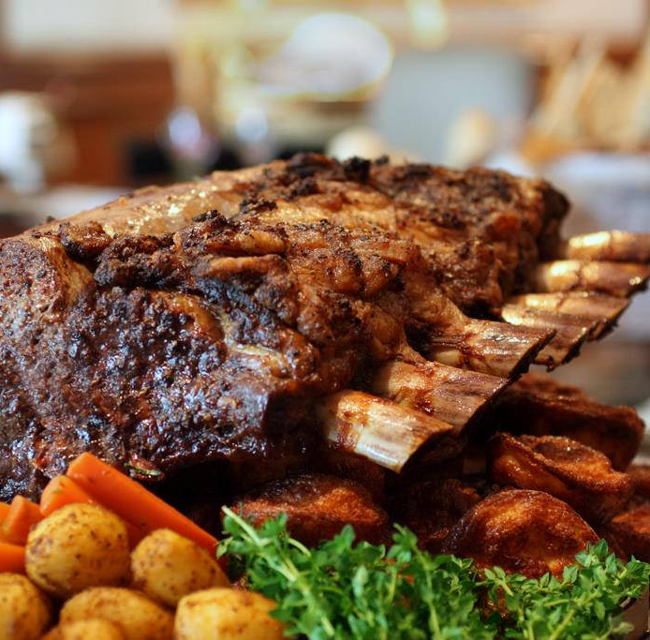 DIRECTIONS:
Chef's note: you really want to get a good piece of meat to do this:
Marinate meat with salt & pepper and let sit uncovered in fridge for at least 24 hours.
Take meat out for an hour to come to room temperature before cooking.
Cook meat at 100 degrees Celsius for 90mins. For every additional kg, 15 minutes can be added. (This is for medium rare).
Remove and allow to rest (at least 20mins) – remove bone to cook up jus.
Just before serving put prime meat in oven at 250 degrees Celsius for 8mins.
You may slice immediately and serve.
In a saucepan, add the bone, carrots, celery, and onions wine, bay leaves, thyme, and parsley to cook, stirring occasionally until starting to lightly brown, about 8 minutes. Add wine, bay leaves, thyme, and parsley, and cook.
Bring to a boil and cook until reduced by half, about 10 minutes. Add beef stock, bring to a boil, and cook until reduced by half, another 10 minutes.