This spicy, fresh and tangy Prawn Arrabbiata Pasta uses fresh prawns, sweet cherry tomatoes and fresh basil. Put it together in 30 minutes and you'll have a perfect weeknight dinner! 
Cuisine : European Course : Main Skill Level : Novice
Prep : 15 mins Cook : 15 mins Ready in : 30 mins Serves : 2

---
INGREDIENTS:
10 Shelled prawns (keep the heads)
4 tbsp Olive oil
3 tbsp Butter
5 Big red chillies cut iinto chunks with seeds
4 Cloves garlic, thinly sliced
1/3 cup Dry white wine
1 pint Ripe cherry tomatoes, halved
Sea salt and freshly ground black pepper
6 Fresh basil leaves, for garnish, optional
Chilli flakes (optional)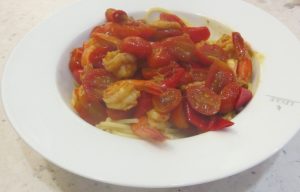 DIRECTIONS:
Bring a large tall pot of heavily salted water to a boil.
Heat the olive oil and butter in a large frying pan or pot. (enough to hold the pasta)
Roast the prawn heads in the oil for about 5 mins.
Remove the prawn heads from the pan and discard. Include any juices that have collected in the bowl. Add the chillies and garlic to the olive oil and cook for a few minutes until fragrant. Add the wine and cook until reduced by half.
Add the tomatoes, sprinkle with sea salt and black pepper and sauté until they just begin breaking down. Add the prawns and add till it is starting to turn pink.
Cook the spaghetti in the pot of boiling water along with 2 tablespoons of salt. Cook the pasta for 2 minutes less than indicated on the package instructions. Reserve 1 cup of pasta water and drain the spaghetti.
Add the prawns and pasta to the tomato sauce and toss together for about a minute, adding pasta water as needed. Add chili flakes to taste.
Serve immediately with torn basil, if using.