This is a basic recipe for anyone who wants to try their hand at Japanese cuisine. Rice, mayonnaise, crabsticks, avocado, cucumber and flying fish roe are wrapped in seaweed and served immediately. Prepare a side of wasabi if desired.
Cuisine : Asian Course : Main Skill Level : Novice
Prep : 20 mins Cook : 0 mins Ready in : 20 mins Serves : 2

---
INGREDIENTS:
400g Cooked Sushi Rice
2 pieces of Sushi Seaweed (Nori) Sheets
200g Crabstick (diced)
2 tbsp of Mayonnaise
½ Avocado (sliced)
Shredded Cucumber
Sesame Seeds or Tobiko Roe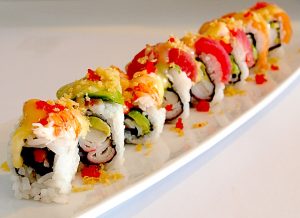 DIRECTIONS:
Divide rice into 2 portions and place 2 pieces of nori sheets on sushi mats.
Wet hands with water, mould rice onto nori sheets, covering it completely.
Cover the rice over with cling wrap and overturn the seaweed sheet.
Lay the crabstick, avocado and sliced cucumber on seaweed sheet.
Pipe some mayonnaise along the ingredients.
Roll up the sushi, pulling out the cling wrap and re-wrap again when done to hold the sushi in shape.
Dust sushi roll toasted sesame seeds.
Slice the sushi roll and top up each piece with Tobiko roe or salmon roe before serving.