This rich and lip-smacking Pots au Chocolat is baked in a water bath to achieve its characteristic texture and flavour. This dessert is perfect for chocolate lovers!
Cuisine : European Course : Dessert Skill Level : Novice
Prep : 255 mins Cook : 20 mins Ready in : 275 mins Serves : 4

---
INGREDIENTS:
100g Milk
100g Cream
90g Chocolate
2 Egg Yolks
30g Sugar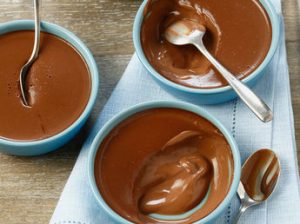 DIRECTIONS:
Heat the milk and the cream together.
Cream the egg yolks and the sugar together until creamy.
Once the cream is hot, pour half of it over the chocolate and whisk the other half into the eggs.
Stir the chocolate until it is completely melted.
Mix the egg mixture and the chocolate mixture together.
Pour the mixture into ramekins.
Bake in a water bath at 180°C for 20 minutes or until the mixture is set on the sides and is still slightly wobbly in the center.
*Tip: Refrigerate for at least 4 hours before serving. Can be made one day in advance.